Our Products
Color Emulsion: Beta-Carotene

San-Ei Gen F.F.I., Inc. proudly offers our Beta-Carotene series, developed with our proprietary emulsification technology to offer an extensive shade range and stable performance in beverages and foods.
BENEFITS
Wide color range, from cloudy yellow-orange to red-orange
No ringing, sedimentation or attachment to bottle
Excellent heat and light stability
Easily dispersible for superior performance in beverages
Insensitive to pH and Brix
APPLICATIONS

*Recommended applications: Beverage, confectionery, frozen desserts, processed foods, etc. Color tone may vary depending on formula.
Challenges with Ringing
Beta-carotene, available both synthetically and naturally, allows food manufacturers to create appealing orange shades. However, emulsification stability issues can lead to unevenness over time, becoming particularly apparent with ringing and sedimentation in beverages. We've developed our beta-carotene color series to address this issue, resulting in resilient colors that remain stable and evenly dispersed, even throughout long-term storage.
Extensive Range of Hues
Beta-carotene colors typically impart yellowish-orange color tones. Using our proprietary technology, we have developed beta-carotene colors with a wider shade of hues, ranging from more yellowish-orange to unique reddish-orange color tones.
When dissolving in water ···
Our Beta-Carotene
Competitor
Our Beta-Carotene dissolves quickly and uniformly.
Syrup (Brix 50) stored for 1 month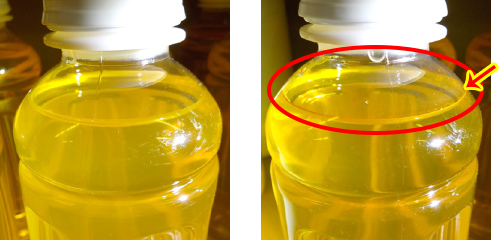 Our Beta-Carotene
Competitor
Prevent ringing with our Beta-Carotene.
Available Markets
U.S., China, Japan, Korea, Taiwan, India, Malaysia, Indonesia *
* For beverage only in Indonesia.